Erg Chebbi is the dune field of about 25 km from north to south and about 7 km from east to west at the most extensive point. The highest dune is 884 km in the north. These dunes are also called oasis because you could easily find water there if you dig a little.
The trip to these oasis starts with a long route by road and on this road, you could see the number of Kasbahs and there would be lots of stops on your way where you could rest and meet the locals. Also, you would get to visit plenty of beautiful places where you can take photos. The itinerary will last for at least 3 days and you could expect the following in your 3-day journey.
Day 1: Marrakech to Dades gorges Via Ait Benhaddou kasbah and Ouarzazate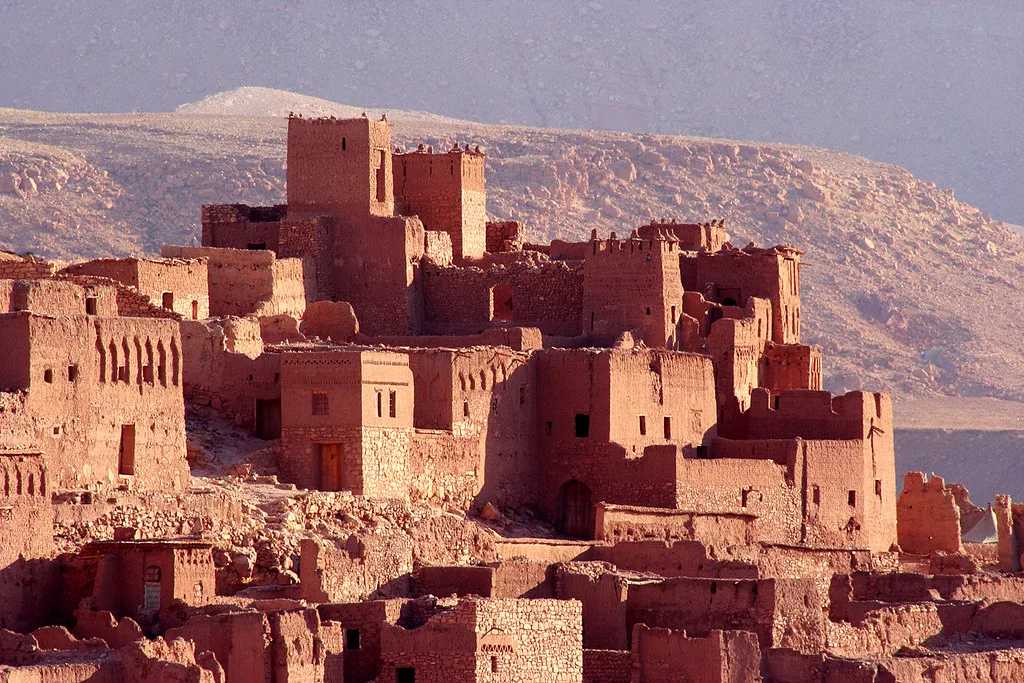 I departed from Marrakech at 9 am in the air-conditioned car. I traveled over the Atlas Mountains by enjoying the spectacular views of the surrounding landscape. In a while, we came to Ait Benhaddou. It is the former route between Sahara and Morocco. Just 4 families were living in that ancient village. In 1987 Unesco declared it as a world's heritage. This Voyage takes approximately 4 hrs. From there we headed to Ouarzazate just 1 hour from ait Benhaddou. It is an elevation of 1,160 meters (3,810 ft) in the Center of a bare plateau south of the Mighty Atlas Mountains. The inhabitants of this Kasbah known as Berbers. They build many buildings in this area. Ouarzazate is a famous holiday destination in Morocco. We stayed there for lunch break and sightseeing. This place is the mecca for photographers. I took hundreds of photos there. After lunch, I continued my journey to the Dades Valley to reach my Guesthouse where I stayed for a night. The guesthouse is very simple yet comfortable, it also offers private suites. I did an evening meal and morning breakfast there at very affordable rates.
Day 2: Dades Gorges to Merzouga via Todghra Gorges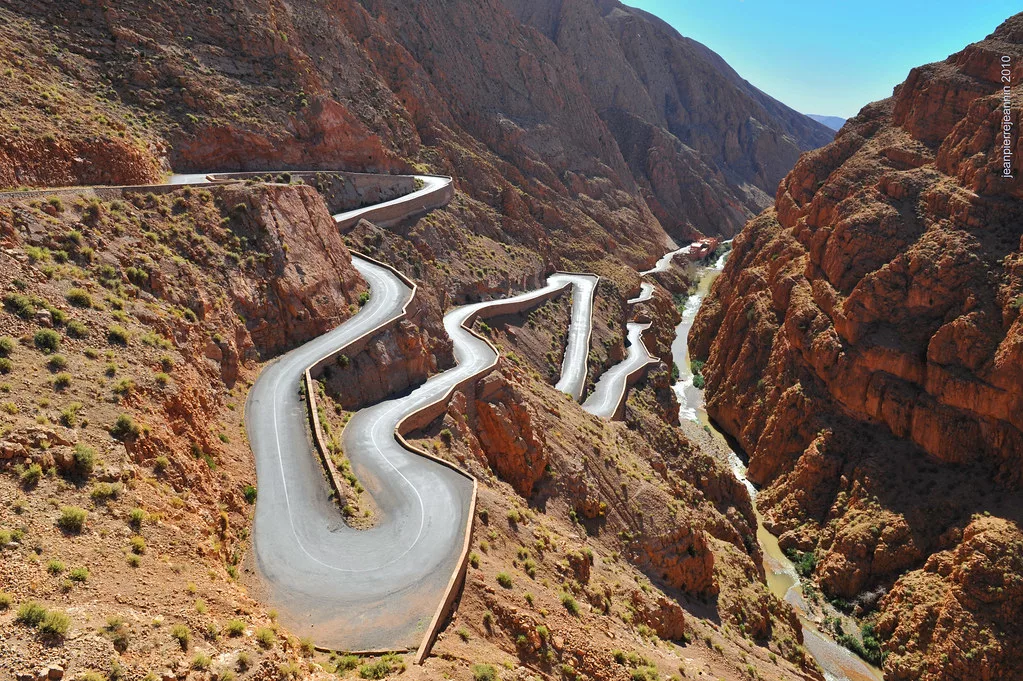 The next morning I continued my journey from Dades Valley, Visiting Dades Gorge is a treat in itself. Dades Gorge consist of a series of valleys Carved out by the Dades River. The river originates from the High Atlas range of the Atlas Mountains, flowing some 360 kilometers (230 mi) southwest before joining the Draa River at the corner of the Sahara. Before making our way to Merzouga we also saw Todgha Gorge and other fascinating sites. The best part of the day is the moment when I saw the Camels when we reach Merzouga. The guide told us that we will be given Camels individually who would take us to the desert camp at Erg Chebbi. Now, let me tell you that the ride from Merzouga to our desert camp is about 2 hours and if you think that it would be some pleasant ride then forget about that. It would make you very uneasy because most of us would never bear continue bumps. When I arrived at the camp in the evening, I was greeted by the Camp staff and they gave me hot mint tea to relax and after taking shower they served me a dinner in the main camp. There were all sorts of camps there from luxury to cheap ones. Anyways, I spend most of the night under the stars, on the dunes and beside the warmth of the fireside. You could enjoy the crystal clear sky in the Sahara Desert as there is no pollution or artificial lights around to pollute the sky.
Day 3: Merzouga to Marrakech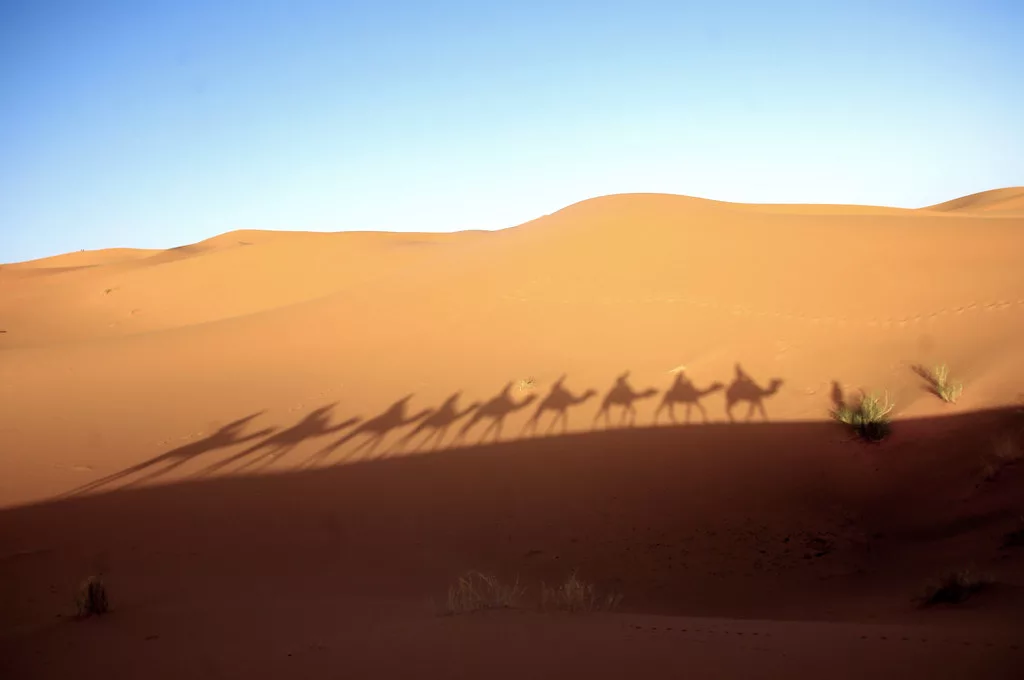 On the third day, I woke up early to see the sunrise in Sahara. I was lucky enough to see the sunrise because there were no clouds at that time and the sky was clear. It was the striking view the whole orange dunes looks golden. After that, I head back to Merzouga on my Camel. When I reached In Merzouga the first thing I have is the breakfast. After that, I have taken a bath and begin my journey back to Marrakech in the car. I begin my round trip through the stony desert and over the Atlas Mountains. My driver was kind enough who took several stops and I took as many photos as I can. I was very excited when I started my trip from Marrakech to Merzouga desert tour it feels like it would be a long journey but now its time to get back from Merzouga to Marrakech and it felt like a dream is going to over.
Now my final tip for many of you is that Morocco is a very conservative and religious country. So, always be very couscous about what you wear. Although Marrakech is quite liberal and you could even find nightclubs over there but I am talking about the rural site especially the surrounding areas of Sahara Desert. As I have explained earlier it is surrounded by Kasbahs and villages, Even in Merzouga people are quite conservative. I will not recommend covering the full body from head to toe just cover the essential body parts like legs, arms. Men can wear long shots no problem but when you ride a Camel I recommend you wear jeans or full pants.  For women, you should cover all your private parts from head to toe. The scarf is very much essential for women.
Also please bring Good trainers with you. You would walk a lot on your trip to Sahara good shoes is a must to ease your journey. Do not forget to bring your first aid kit with you.  After camel riding, you might need it. Also, bring some medicines for vomiting and diarrhea because roads to Merzouga are very curvy. If you go in a rainy season like from August to November then I recommend Lightweight waterproof trousers.  Other essential kit includes Sunglasses, Sunscreen, torch and batteries and finally the most important one towel and all personal toiletries. I know that you could find most of these along your way to Sahara but be prepared beforehand.
Choose your travel agency wisely because there are plenty of agents out there. Chose the one who has more credibility, has good reviews and must be local.
---
About the author
Sheraz Shahzad is a part-time travel blogger, part-time digital marketing specialist, and full-time dreamer. He loves the photographic medium for expressing what he loves about life. He always finds himself lost during travel. But he loves unfamiliar territories and finding his way around. Aside from his taste for adventure, he loves doing two things while traveling – meeting new friends and trying new food. Just contact him on Linkedin to work on your travel website.
All opinions and facts are that of a third-party writer, not an official Feenta.com author. It's an article written by a guest author. If you'd like to submit an article, go to our Write for Us page.